Belated Reflections
October 14th, 2014
Our recent pilgrimage to Glastonbury at the end of September is beginning to fade into the distance along with the memory of that warm, dry late summer which was so much appreciated both for our walking and camping.
We were certainly reminded that it could have been very different as we crossed the Somerset Levels and saw the dredging work going on in the rivers around Burrowbridge and the sandbags that still lined the river banks after last winter's inundation.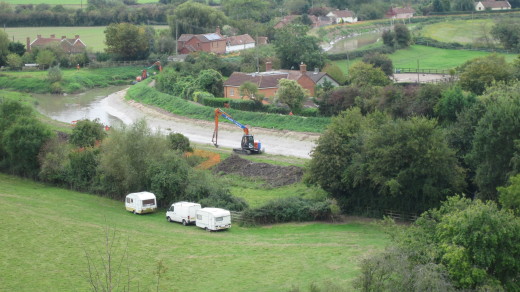 Much of the pilgrimage route across the Levels was then under water for many weeks, a real reminder of the inland sea which once existed here and seemed to temporarily return, and of the intensive drainage work that has taken place over hundreds of years to reclaim the land.
The history, culture and mythology of the area is so intertwined with this watery legacy, including the sanctuary found in the marshes by King Alfred at Athelney from where he emerged to defeat the Vikings at the decisive battle of Edington in 878AD.
There is also the potent myth of Joseph of Arimathea, who as a merchant is said to have sailed here to trade in metal ores mined in the Mendips perhaps accompanied on such one journey by the young Jesus.
Joseph is then said to have returned after the crucifixion carrying the chalice which contained some of Christ's blood and was responsible both for burying this chalice which became the well spring of the Grail myths and building the first Christian church on English soil. Whatever the truth behind some of these stories, there is no doubting the power that this Isle of Avalon still holds over the imagination and curiosity of spiritual seekers.
On our last morning as participants in the age old ritual of welcoming the sunrise from the very special vantage point of Glastonbury Tor it was hard not to be both awed and appreciative of the great beauty and wonder of this world. It also provided a humbling reminder of the urgency of our responsibility to do all in our power to honour and pass on intact this wondrous earth in all its diversity to future generations.