Pilgrimage around Throwleigh and Gidleigh
July 24th, 2011
Members of the South Devon Gatekeeper Group gathered at Throwleigh and walked part of Mary/Michael Pilgrims Way led by Richard Dealler on Sunday 17th July.
Starting with an attunement and dedication at the church of St Mary's, Throwleigh, nine of us walked accompanied by gusting wind and intermittent downpours thankful for some of the sheltered by- ways on the edge of the open moor.
We shared some of the stories and history associated with this part of the route, visited the church at Gidleigh with its adjacent castle ruin and sang across the stream that flows through the churchyard.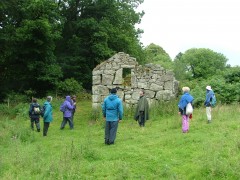 We returned to Throwleigh via the abandoned chapel of La Wallen, meeting with inquisitive Dartmoor ponies and cattle in playful mood along the way. Near the chapel a precarious crossing of the stream added to a sense of adventure and mutual support.
Back at St Mary's a candle we had left burning was still alight. We wrote and shared short poems whilst gathered around the font. These thumbnail sketches of the day written in a few minutes created a rich tapestry of impressions from our shared experience.