Michaelmas Day Pilgrimage
October 1st, 2012
Sixteen of us gathered on Saturday to celebrate Michaelmas (29th September) with a pilgrimage along the Michael line. Undeterred by traffic congestion which delayed our start we began near the army camp above Okehampton, with Yes Tor clear in the distance behind us, relieved to be out in the wild open space of Dartmoor.
We processed to Fitz's Well and from there to the site of a former chapel which had been dedicated to the Archangel Michael at Lower Halstock Farm. Lunch was eaten on the banks of the East Okement river, where there is a deep pool which may have been more inviting for a swim on a warmer day.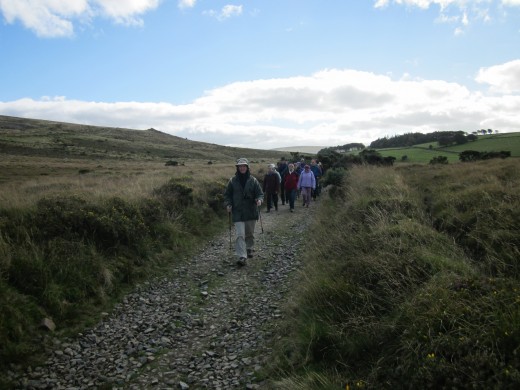 We then continued via Culliver Steps to the Bronze Age cairn circle known as 9 Stones before completing our walk at St Mary's Church, Belstone where the granite ring cross is housed. This is thought to have been an ancient standing stone which was later appropriated by early Christians and carved with symbols of the new religion.
At each focal point along the way, we honoured the place with ritual, sharing prayer and poetry, chant and dance as seemed fit and left stems of Michaelmas Daisies with our blessings and gratitude.
A more extensive programme of pilgrimages is planned for next year ranging in duration from a single day to a week, along various parts of Mary/Michael Pilgrims Way. More details will follow soon.