August Pilgrimage reflections
August 19th, 2013
For the first time on pilgrimage this summer we had to manage with some heavy and sustained rain. A fierce thunderstorm on the first afternoon was an awesome spectacle of nature's power whilst the deluge we experienced on our walk towards St Cleer gave me for the first time a true understanding of the aptness of the phrase raining stair rods.
Interestingly these events also provided some genuine highlights as truly surrendering to the rain was both liberating and dare I say it joyful.
It was also good to see how well our equipment, van and event shelter stood up to the challenge ensuring that we could have a dry space to gather whilst the plentiful supplies of hot food and drinks were not interrupted.
Trying to be heard above the drumming of the rain on the event shelter as I recited a poem was theatrical and I loved the combined power of all our voices as we responded to the rains tumult.
Of course it was also a relief that most of the time it wasn't raining, so wet boots could be gently steamed around the firebowl and damp tents aired.
There was a real lushness to the landscape which  this picture of the Luxulyan Valley conveys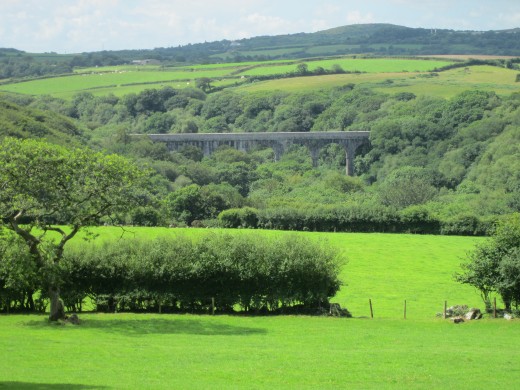 I think we all learned something about resiliance and appreciation of the gifts of nature, the rain and the sunshine, the wild swimming and the incredible beauty of this part of Cornwall.
The combination of secluded pathways, quiet lanes open moorland and  a diversity not just in the landscape but also of the places of power and spiritual significance that we encountered along the way was hugely enriching as was the contact and community amongst those who shared the journey and also with those we met along the way.
In particular the generosity of those on whose land we camped, or who opened churches that were locked, even providing a welcome cup of tea into the bargain as Elizabeth did when we reached Lostwithiel, were offerings of real hospitality to strangers.
I'm sure  everyone took away their own highlights and special memories of the time we spent together on pilgrimage. For me leading, it is so much in the unexpected and unplanned that I often find myself deeply touched. Spending time in the Pilgrimage Garden at St Cleer, (particularly as the rain abated just before we arrived) was very special as was the magical atmosphere that surrounded the giant boulder at Lower Greadow Farm.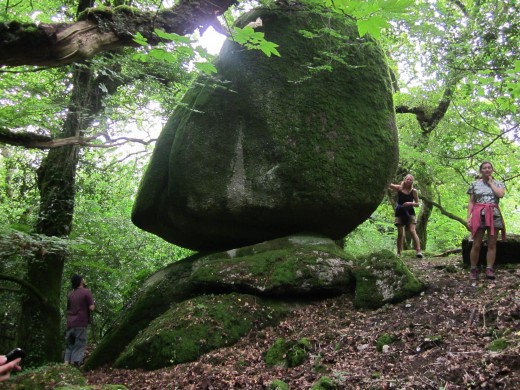 It amazes me at times that people will give  up the familiar comforts for the uncertainty and vulnerability of a pilgrimage like this yet I also know how much the soul yearns for such opportunities and that the nourishment and feeling of wellbeing and attunement that people seem to experience along the way is a priceless gift.