Bodmin Moor to Brentor
September 9th, 2011
Progress is continuing in exploring the best route to take in expanding  the pilgrimage down through Cornwall. Yesterday I found myself in the drizzle struggling along muddy paths, finding routes blocked and crops growing over supposed rights of way east of  Milton Abbot.
Eventually the rain stopped and the cloud lifted and with it my mood and seemingly the blocks to progress as I found a way forward which felt satisfying. There were moments of beauty, such as the avenue of beech trees which had the grandeur of the nave of a cathedral and the views of Brentor and the uplands of Dartmoor behind which had been obscured by mist until the afternoon.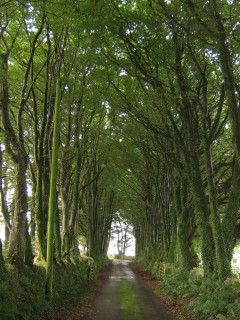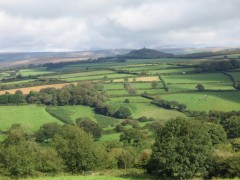 I enjoyed a cup of tea and a chat with the proprietor of Mavis's, the village shop in Milton Abbot. The name is an abbreviation of Milton Abbot Village Independant Store rather than as I mistakenly thought that of the proprietor herself.
I ended the day having crossed the Tamar and the border into Cornwall at the peaceful village of Lezant, a parish which according to the map is richly endowed with holy wells and an ancient chapel dedicated to St Mary Magdalen as well as the parish church of St Briochus where a carving of the Green Man gazes down from the ceiling of the porch at all who enter.