Glastonbury to Avebury, a start.
August 20th, 2012
This is the next leg of the pilgrimage which I have begun to explore.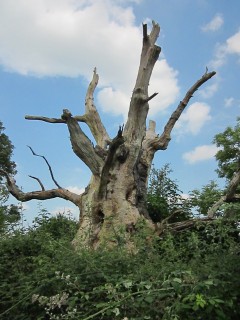 Beginning at the Tor in Glastonbury I made first for the giant oaks of Gog and Magog, identified by some as being the last remnants of an avenue of trees which marked an ancient ceremonial route to the Tor.
I passed Norwood Park Farm with its house built in 1457 as the palace of the then Abbot John de Selwode. Here the choice of paths led me on frustrating detours and I needed to revise again and again my original plans devised before leaving home. The on the ground reality mocked the easy progress which maps sometimes suggest.
In the end this mean't abandoning plans to include West Bradley church which lies on the Mary line in the route and head further north deep into the Somerset Levels and on to North Wootten where the ancient font which predates the rest of the church by more than 300 years leans drunkenly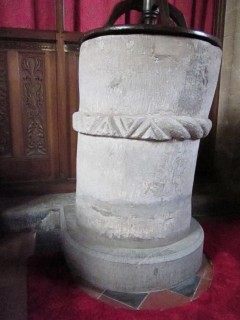 .
 From here I followed part of the Monarch's Way a walking trail that (more or less) follows the  route taken by Charles II in his escape following defeat at the battle of Worcester in 1651. I then stepped further back in time on a ridge top path heading for Pilton. The track, I was assured by a walking group I met  dated back to the Roman occupation, a credible possibility bearing in mind the close proximity of the Fosse Way, a major Roman highway.
Pilton is one of the places traditionally associated with Joseph of Arimathea. When the Somerset Levels were still an inland sea, a harbour was located just below where the current manor house stands and was a place visited by merchants who sailed there to collect lead and copper mined in the Mendip hills. the legend is that Joseph built a small wattle church just above the harbour, perhaps close to or on the site of the current church.
Aside from this I also visited the Tithe Barn in the village  built in the early 14th century by order of the Abbot of Glastonbury. The barn roof was destroyed in 1963 when it was struck by lightening but was recently restored with  help from Michael Evis, better known for establishing the Glastonbury Festival.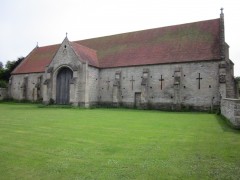 I completed my walk in Shepton Mallet with a brief visit to the Church of St Peter and St Paul, a visit curtailed by the need to catch a bus back to my starting point in Glastonbury and from there, home.